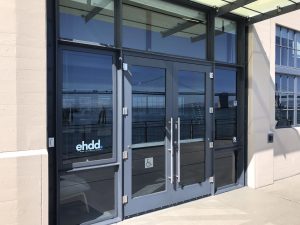 So, this is where it all began, 27 years ago, with Esherick, Homsey Dodge & Davis Architecture, an absolutely iconic firm in the San Francisco Bay Area architecture community and beyond. I remember each of the founders – Joe, George, Peter and Chuck – such friendly kind-hearted guys, quick with a handshake, or a slap on the back, or a joke or three.  They built a top-notch design business and over the next couple decades, even after they retired and new leaders rose up through the ranks to drive the firm forward, I watched the overwhelmingly positive culture that they built persist and thrive. Workplace environment and culture aside, the kudos and accomplishments of this firm are plentiful, from the Monterrey Bay Aquarium to the Chicago Shedd Aquarium to the De Young Museum…the list is seemingly endless and truly inspiring.
The day I walked into EHDD I had no idea what a long and excellent journey had just begun for me, a journey that would define my entire professional career. I was there as a hired IT consultant to replace the aging and slow Novell token-ring network running in the accounting department with a NEW state-of-the-art ethernet network running Novell 3.12 (yes, there WAS a time that this was the state-of-the-art!) upon which I was to install the newest Timberline Accounting software, perform a data migration, and setup a new and improved backup system. It was my first gig.
The project went really well. The client was happy. I learned a LOT, not just about networking and accounting stuff, but about PEOPLE, and working with people to understand their IT needs and to take the steps required to resolve them. I STILL feel that buzz after all these years. I was elated, and I went to the bank with my first check for an independent contractor IT consulting job. I deposited the $6K into…wait for it…a business checking account opened under Irvine Consulting Services; my brand-new legal business entity registered in the City of Berkeley CA. I was officially a business owner in the IT Services industry, and within 6 months I was working for a couple dozen architecture and engineering firms. I quit my day job and became a full-time sole proprietor. The decision was a no-brainer.
So, sitting here on the wharf enjoying the view of the San Francisco Bay, having lunch with Bill Abbott, the IT Manager for EHDD (I helped to interview and hire Bill many moons ago!), talking about their recent move (the third move since I began working with EHDD!) it really struck me just how pivotal this firm has been to everything that has transpired since that first consulting gig, 27 years ago.
Thanks, EHDD, for giving me that first opportunity.